Six scientists analyzed the letter and estimate its overall scientific credibility to be 'very low'. more about the credibility rating
A majority of reviewers tagged the article as: Biased, Cherry picking, Inaccurate, Misleading.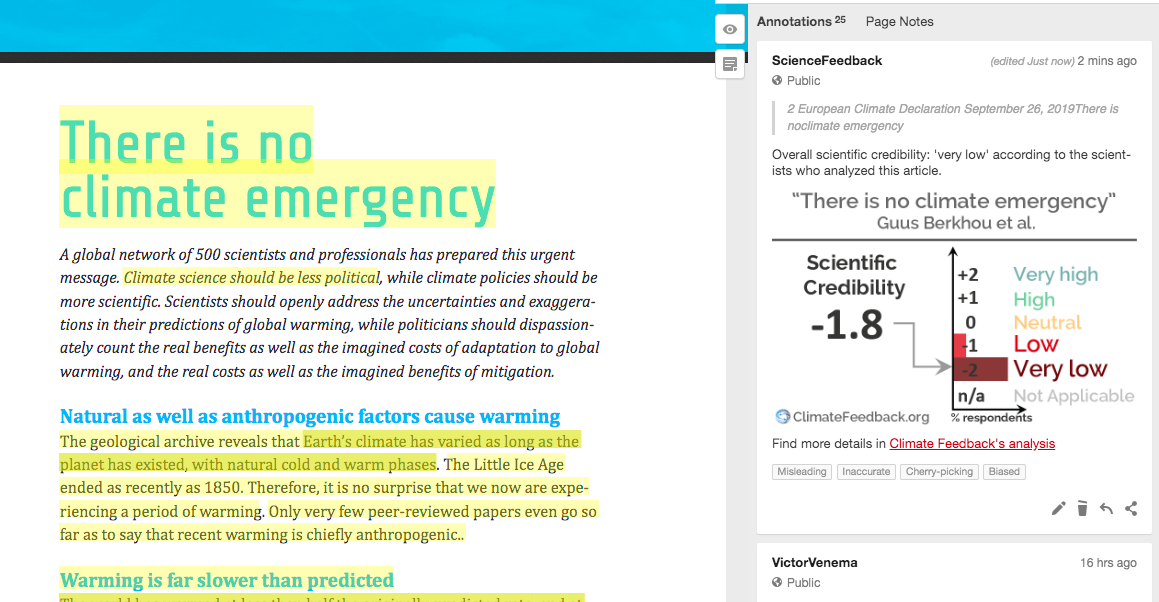 SUMMARY
This letter presenting a short list of claims about climate change boasts a list of « 500 scientists and professionals » who have co-signed it.
The claims contradict or misrepresent the evidence uncovered by geoscientists, failing to provide support for its conclusions downplaying the threat of climate change. The letter claims, for example, that climate models ignore the benefits of increased CO2 on plant growth. This is false, as many climate models simulate the response of vegetation to increased CO2—and the climate change it causes.
And while some outlets described the co-signers as experts in climate science, most are not. As noted in an analysis below, a significant portion of the co-signers are either engineers or professionals in non-technical fields. Only 10 identified themselves as climate scientists.
Similar letters have sought to establish credibility with large numbers of co-signers in the past, but evidence is what counts in science.
See all the scientists' annotations in context. You can also install the Hypothesis browser extension to read the scientists' annotations in context.
REVIEWERS' OVERALL FEEDBACK
These comments are the overall assessment of scientists on the article, they are substantiated by their knowledge in the field and by the content of the analysis in the annotations on the article.
Timothy Osborn, Professor, University of East Anglia, and Director of Research, Climatic Research Unit:
This statement is unscientific. It ignores well-established understanding of climate and of what causes the climate to change. It makes cherry-picked statements, such as noting that some vegetation grows more with increased CO2 while ignoring the risks of serious damage arising from the climate change that is being caused by the same increase in CO2. The authors of the statement appear to be very unfamiliar with climate science: for example, they do not know that the amount of global warming we have observed is very close to the amount predicted by climate models.
Twila Moon, Research Scientist, University of Colorado, Boulder:
The letter contains direct lies and cherry picks information about carbon dioxide and climate change impacts that are designed to mislead. I am also concerned that many of those who have signed the letter are well known climate deniers and are not actively involved in direct research on climate change and its impacts.
Victor Venema, Scientist, University of Bonn, Germany:
The text is a masterpiece: next to the political opinions expressed, every single sentence is either wrong, insignificant or irrelevant for the question whether climate change is a serious problem for humanity. Given how old the « arguments » are, the authors are clearly not aiming to convince scientists and thus making science more political, while disingenuously claiming to be against that.
Amber Kerr, Researcher, Agricultural Sustainability Institute, University of California, Davis:
Each of the six claims has some element of truth to it (e.g. there is not much evidence that global warming is already making hurricanes more frequent). However, all six claims are presented in a biased and misleading way, giving the incorrect impression that anthropogenic climate change is a benign or beneficial force overall, whereas scientists and economists have repeatedly concluded that climate change is a massive and urgent problem. 
Giorgio Vacchiano, Assistant Professor, Università di Milano:
The scientific content is completely inaccurate, undocumented, and fails to bring proof for its claims. The ending of the Little Ice Age in 1850 has no logical link with the fact that the Earth is warming now. Most past climate variations have been slower or less intense as the present one, and if they were as fast or severe they brought about mass extinctions in the biosphere. No explanation or proof is brought on the implausibility or inaccuracy of climate models (whose accuracy or uncertainty is precisely quantified and makes their use better than just random guesses). The last two statements are based on literature and common knowledge, but qualify as cherry-picking because they omit most negative effects of CO2 increase and warming (e.g. other clear trends in extreme events, damage to forests and crops by drought and heat waves).
Notes:
[1] See the rating guidelines used for article evaluations.
[2] Each evaluation is independent. Scientists' comments are all published at the same time.
The statements quoted below are from the article; comments are from the reviewers (and are lightly edited for clarity).