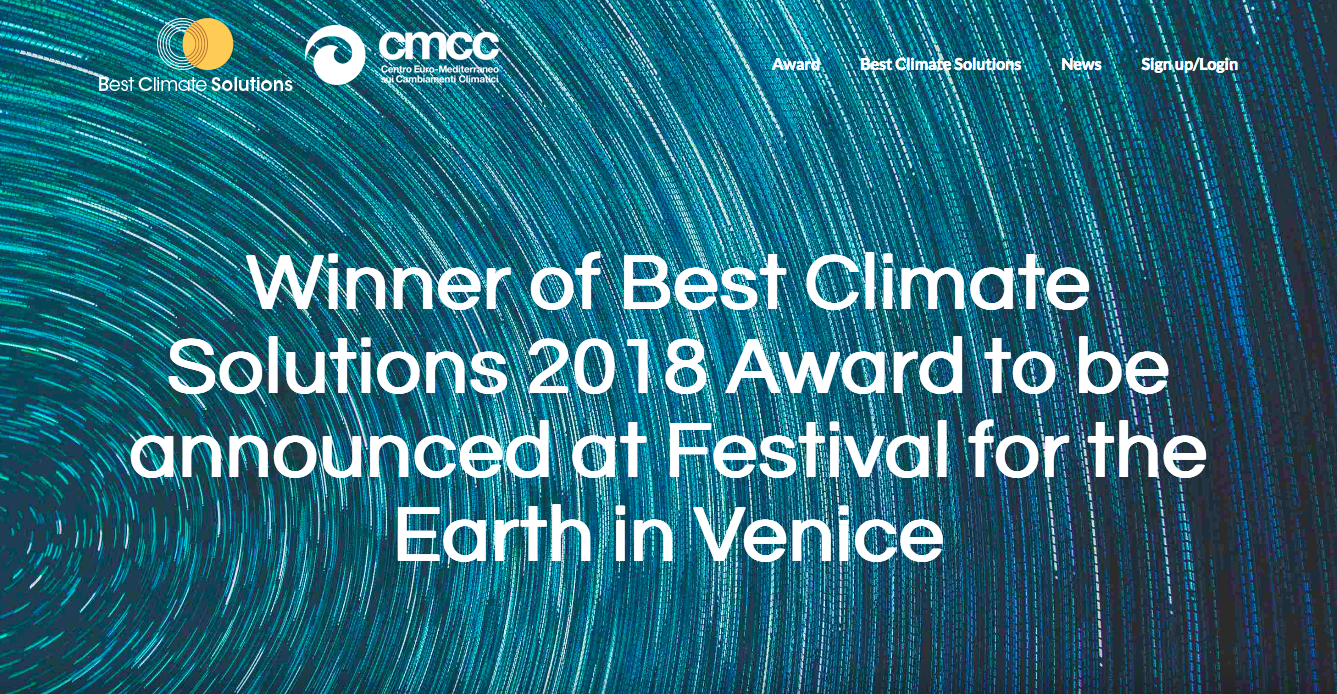 The Best Climate Solutions Award competition was organized by the CMCC Foundation (Euro-Mediterranean Center on Climate Change) and co-produced with the Festival for the Earth, with the intent to reward the best initiatives to communicate about climate change and related risks and opportunities.
The international call for proposals attracted more than 100 applications from dozens of countries around the world in fields including new media, visual communication, gaming, art, literature, and education. The awarded projects were selected through a mix of public voting and deliberation by an international jury composed of Pulitzer Prize winner Kenneth Weiss, the director of National Geographic Italy Marco Cattaneo, Jessika Berns (Communications Manager of the Green Growth Knowledge Platform), Marion Ferrat (former head of Communication of IPCC Working Group III), and Liliana Hisas (Director of the Fundación Ecologica Universal FEU-US).
The awards were presented at the Festival for the Earth in Venice, Italy, on the 4th of December 2018, and supported by Greenfid.
Climate Feedback was recognized for bringing its "expertise, balance, and commitment against fake news and catastrophism". The jury said about Climate Feedback:
"Fact-checking, collaborative structure, and scientific expertise are the cornerstones of this initiative which sifts through social media in search of climate change news to verify its reliability and release science-proven analyses."
According to the jury, Climate Feedback is
"a great initiative led by climate scientists. In the current media environment, widespread misinformation about climate change can be confusing to the public. This project could offer corrective influence in newspapers, magazine, and media, as well as help scientists understand the public discourse and provide answers to the questions that matter to the civil society."
The first prize was awarded to Climate Without Borders, an international network of weather presenters committed to communicating climate change in a scientifically accurate manner.
Another Special Mention of the Jury was awarded to Climate Tracker, an organization involving
over 7,000 environmental journalists in more than 150 countries, especially in the Global South, in order to enhance climate change coverage in their respective countries.