Five scientists analyzed the article and estimate its overall scientific credibility to be 'very low'. more about the credibility rating
A majority of reviewers tagged the article as: Biased, Cherry picking, Flawed reasoning, Misleading.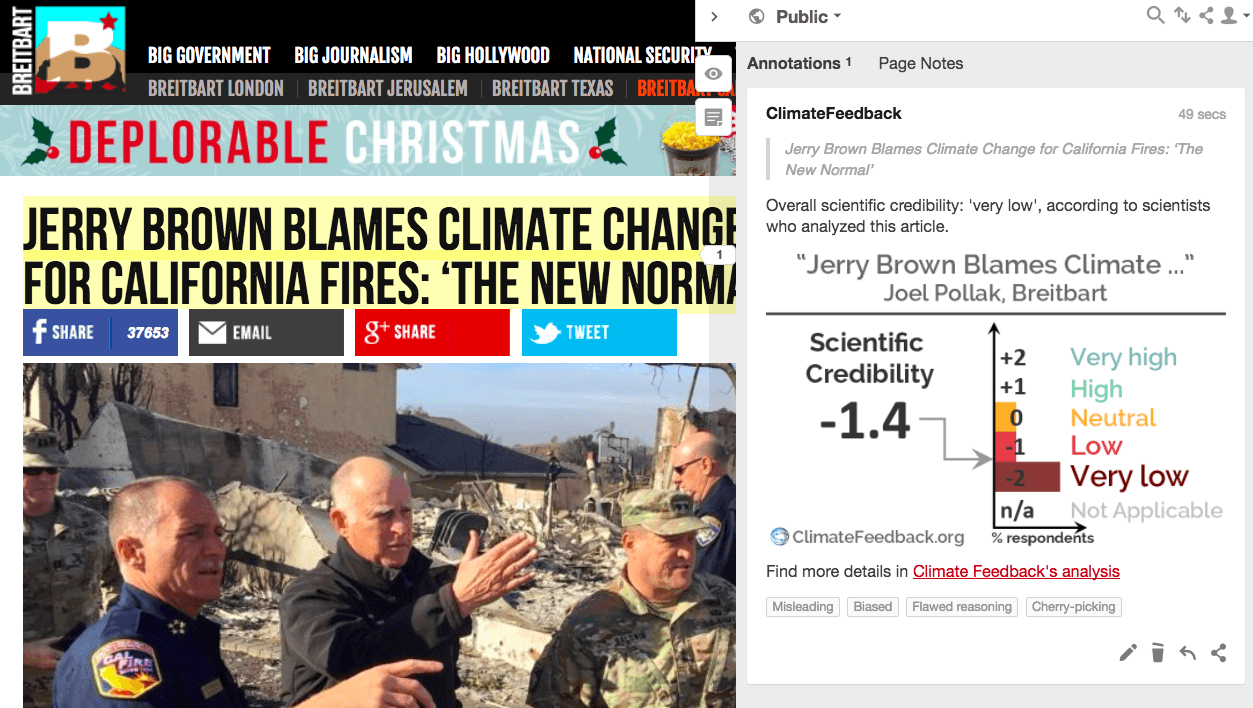 SUMMARY
This article in Breitbart criticizes a statement by California Governor Jerry Brown, who said that the recent dangerous fires are "the new normal" for the area. The article correctly lists a number of factors that contribute to wildfires, including weather patterns and the construction of homes in areas at risk of fire. The article represents the contribution of climate change to wildfire trends as unknown, and a matter of debate for climate scientists.
Scientists who reviewed the story found this to be misleading. The article fails to explain the ways in which climate change can clearly influence the factors that control wildfires. A number of published studies have found that climate change is an important contributing factor to wildfire behavior in the western United States.
See all the scientists' annotations in context
REVIEWERS' OVERALL FEEDBACK
These comments are the overall opinion of scientists on the article, they are substantiated by their knowledge in the field and by the content of the analysis in the annotations on the article.
Anthony LeRoy Westerling, Associate Professor, University of California, Merced:
The article ignores the overwhelming evidence in peer reviewed scientific literature that warmer temperatures and more variable precipitation are exacerbating western US wildfire activity, leading to more large fires, more area burned, changing fire severity, and longer fire seasons. While many other factors interact with climate to influence wildfire, a changing climate is clearly driving an increase in fire risk. The fact that other factors influence wildfire does not imply that climate has no effect on wildfire.
Logan Berner, Postdoctoral research fellow, Northern Arizona University:
The Breitbart article provides a poorly reasoned and misleading view of how climate change has contributed to recent fires in California and the rest of the western USA. The most informative part of the article is the link that it provides to a piece by Southern California Public Radio, which, unlike the Breitbart article, provides an informative and unbiased look at factors contributing to these recent fires.
Stefan Doerr, Professor, Swansea University:
The article is factually correct with no significant inaccuracies. Indeed no specific wildfire event can be specifically linked to climate change as the main cause. The article correctly states that "climate change could be one of a variety of factors".
It also correctly states that "an important factor […] was that people are building homes in areas that are naturally prone to wildfires, or where naturally dry conditions mean that the kinds of building materials and vegetation [used] are a fire hazard.
This, however, is only one of many factors. Climate is not discussed further and it would have been more balanced if the article had also highlighted that climate scientists (i) have shown that the fire season in the southwest USA has lengthened considerably and (ii) generally agree that climate warming increases the probability of the occurrence of large fires in California (as well as many other regions of the world).
See for example:
Daniel Swain, Researcher, UCLA, and Research Fellow, National Center for Atmospheric Research:
This article mixes several true statements with a much larger number of demonstrably false assertions, yielding a very misleading piece overall.
While it is true that potential links between climate change and the strength/magnitude of Santa Ana winds themselves remain uncertain, links between warming temperatures and drying vegetation (and therefore wildfire risk) have been extensively demonstrated. Autumn 2017 was the warmest and second driest such period on record in coastal Southern California—which has yielded explosive fire conditions that both the National Weather Service and state/local fire agencies have confirmed are the most severe on record for this time of year.
Recent studies suggest that further warming and vegetation drying due to climate change will likely increase the amount of area burned by wildfire in southwestern California, even absent changes in the strength of Santa Ana winds. An even clearer link already exists between warming temperatures and increasing wildfire risk more broadly across the American West.
Ben Poulter, Research Scientist, NASA:
One only has to read the links in the article to understand that climate change is the underlying driver of the unusually intense 2017 winter fires that are impacting both the people and places of Southern California. Wildfires result from complex interactions between ignitions, fuel availability, and weather, and after accounting for the role of people and management, climate change has been shown to affect and exacerbate all three.
Notes:
[1] See the rating guidelines used for article evaluations.
[2] Each evaluation is independent. Scientists' comments are all published at the same time.